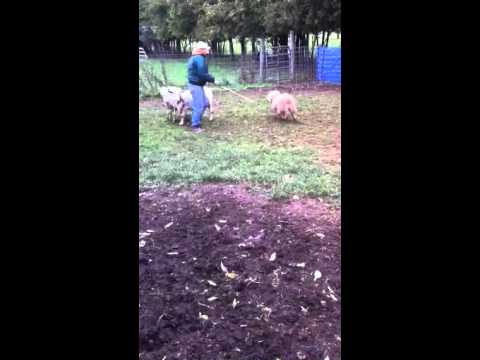 Mr. Magoo is a soft-coated Wheaten Terrier. Wheatens came from Ireland where they were bred to be farm dogs and herders. Now that he's three I decided it was time he learned to do what he was born to do, so we went to sheep-herding school with Susan Rhoades at Keepstone Farms in Virginia.
This was the most fun Mr. Magoo ever had! Let off of the leash in the pen, he was joyous. He took off into the middle of his small herd, separating them and chasing them through the mud (thus I learned why all the other dog-owners had their dogs in crates rather than riding on the seat of the car). I was afraid he was going to
be expelledwhen he ran one poor sheep, smack, into the fence, but it
seems Susan has seen this before. He just got a time-out.
She explained the herding instinct is really a predatory instinct (My baby a predator? No way!). It's true. Herding dogs start with the instinct to chase and catch the sheep – although I'm sure Mr. Magoo would have no idea what to do if he were to catch one.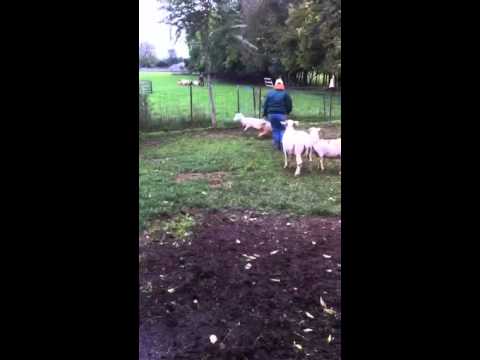 Susan uses the stick to protect the sheep and force the dog to stay outside the herd, instead of charging into it. Mr. Magoo clearly wasn't being hurt by it. As the lesson progressed, he got frustrated that she was blocking him. He turned to her and told her off – if you don't know Wheaten Terriers, they can look at you and "talk". They sound as though they are actually speaking a language you should be able to understand if you weren't so stupid.
Before the half hour was up, he was starting to catch on to as far as
keeping the herd together rather than attacking, chasing, scattering and terrorizing them.
Next lesson maybe he'll learn to get them to move in a straight line.